Welcome to Kiddie College
Mission Statement
Our mission is to prepare the children to be avid learners. We provide nurturing, loving care and developmentally appropriate teachings to help the children develop socially, emotionally, spiritually, physically, intellectually and cognitively.
We strive to teach as Jesus did by our modeling and example. We understand that children are what they learn, and they learn what they live.
Philosophy
Children are active learners who learn best from pursuing their own interests while being actively supported and challenged by adults. We design learning environments and daily routines with all areas of children's development in mind.
We know that these formative years are the most important years of your child's life. We work to instill trust in God, others, and self-confidence, to foster the development of a happy and healthy attitude towards life. This is a joint effort between teachers and parents.
History of the Center
Kiddie College was built in 1980. At the time, the center was mostly surrounded by farms and vacant lots. No one could figure out why someone would build a childcare center here.
In 1994, we acquired the center. Although we decided to keep the name, many changes took place. Our mission was to provide our students, including our own three daughters, the perfect environment to learn and grow. Over the decades, we have seen many of our students grow into successful individuals, including our daughters who are now pursuing careers in veterinary medicine, neurology, and medical research.
Although we are not a parish school, we practice the Catholic faith. Our faith has always been a part of our curriculum and of our daily life at the center.
Goals and Objectives
The goals and objectives for children enrolled in our program are broken into the following children's growth areas:
Cognitive – Our major goal is to help children develop a positive attitude toward learning and provide the proper environment to promote language development, problem solving, and literacy.
Social-Emotional – We focus on establishing a sense of trust and security in a loving healthy environment to promote self-esteem, self-control and conflict resolution via verbal communication.
Physical – Our curriculum promotes activities that enhance and refine large and small muscle skills.
Spiritual – We provide opportunities for the children to develop their spiritual life by practicing their faith with daily prayers and appropriate instructions.
Program's Qualities
Learning Environment: Our center's learning g environment offers a very positive climate and provides quality care for our children. The children in our center are surrounded with age appropriate quality materials and an enriched academic surrounding in where they can express themselves and grow emotionally, physically and academically.
Teacher Interaction: Our center provides our children with teachers who are qualified and maintain their credentials. Our teachers participate in various professional development classes throughout the year to keep at par with the changes and new educational findings and studies. This help our teachers in providing the best quality care for our children in where their daily interaction is essential for a positive emotional and educational outcome.
Parent Involvement: Our Parents are considered an active part of their children's learning experience. Our teachers work in partnership with them, communicating regularly to build mutual understanding and greater consistency for the children.
Unique Qualities of our Center:
Our staff truly takes the time to form meaningful relationships with parents and students to contribute to the positive environment at the center.
Also unique to our center is our large-sized classrooms that provide ample room that allow children to become immersed different activities and move freely without interruption. We also have a huge, 1.33 acre, playground for their enjoyment.
Quality Early Learning Environment
A quality program begins with key individuals working together towards the mutual goal of establishing and fostering trusting and caring relationships. The prime purpose of the program is the happiness and security of each child. Teachers, families, and all other staff members must work together to best nurture and instruct.
Excellence in early childhood education encompasses the following growth areas: social/emotional, physical, spiritual, cognitive, and language development. It is best to assist students in the development of these areas by setting goals and objectives that will appeal to and challenge each child. The use of hands-on, discovery learning activities along with teacher supported activities allows students the opportunity to develop to their maximum potential. An environment that fosters a love for learning by engaging children in activities that are purposeful and meaningful to them; generating a sufficient amount of interest and uncertainty to provoke children's creative thinking and problem-solving skills and offering opportunities for different avenues of exploration will stimulate and will build on present knowledge and abilities. children develop in all areas of growth in an environment that stimulates, nurtures, and awakens their curiosity.
Using curriculum objectives; knowledge of children's developmental sequences and an understanding of the personalities and the learning styles of the students a teacher can develop materials, questions, and opportunities that enable them to engage in exciting learning experiences
Our Teachers
Our lead teachers hold foreign bachelor's in education validated in the US and 15-18 Early childhood College Credits, National CDAE or FCCPC Certificate.
They undergo 20Hrs of Early Childhood Professional Development annually and all of them hold CPR and First Aid Certificate.
They are professionals dedicated to loving, nurturing, and helping your children. Best of all, they are mothers and grandmothers with many years of experience in early childhood, they love what they do and care for your children as their own. Our teachers know how important is for parents to feel they are leaving their child in a safe and nurturing place and do all they can to ensure this peace of mind..
Accreditations We proudly hold the following accreditations since 2006
Department of Children and Families Child Care Services Gold Seal Quality of Care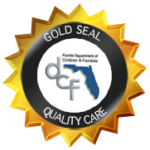 The APPLE accreditation.
Accredited Professional Preschool Learning Environment.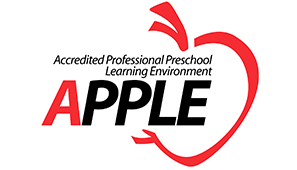 Participants of the Quality Counts Initiative Earned a Quality Rating of 5 Stars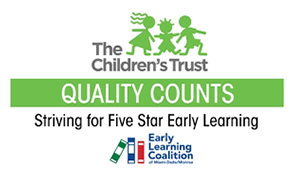 Early Childhood Associations Membership FACCM Florida Association of Child care Management